SDMBA Trailfest ~ Family Ride – Sunday
Sunday Oct 16th, 2022 – FREE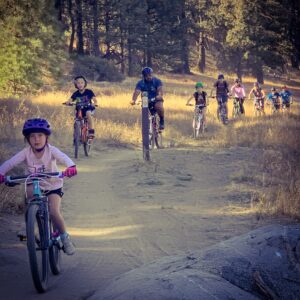 Join us with your young riders as we explore the Mt Laguna trail system! This is a beginner Sprockids Family Ride. Our guides will lead the adventure through the beautiful rolling meadows and woods of the Big Laguna Trail!
Participants for this ride should be comfortable riding off-road on undulating terrain. A geared mountain bike with hand brakes is required. Expect to pedal 4-6 miles with slight elevation changes over the course of the ride. Family rides are open to riders ages 8+
This is a special event for SDMBA Trailfest 2022 attendees only.  You must be registered for Trailfest to register or this ride.
EVENT DATE: October 16th, 2022
EVENT START: 9:oo AM
EVENT END: 10:30 AM
ADDRESS: El Prado Campground
PARENTS: This is an event for you to ride alongside your young shredder, please book a ticket for yourself as well.
EQUIPMENT: A geared mountain bike that has a wheel size of 24″ or greater and is recently serviced and functional. Don't forget to double check the chain, brakes and tire air pressure. Wear a properly fitted helmet (snug is important), closed toe sneakers and athletic clothing that is safe to ride in and weather appropriate. Well fed and hydrated riders tend to have the most fun! Please bring a bike mounted water bottle or hydration pack and a light snack.
If you have questions regarding if this clinic is appropriate for your rider and their ability level PLEASE reach out!
We look forward to riding with you!
Event Details
Cost

$0.00

START DATE

Sunday – October 16th, 2022

Start TIME

12:00 am

END DATE

Sunday – October 16th, 2022

End TIME

12:00 am

RIDER AGE

8+ years old

WHEEL SIZE

24, 26, 27.5, 29

RIDER LEVEL

-

LOCATION

-

VENUE

EMAIL