Oak Park ~ Bike Party / Fiesta de Bicicletas
December 3rd, 2022 – FREE EVENT / EVENTO GRATUITO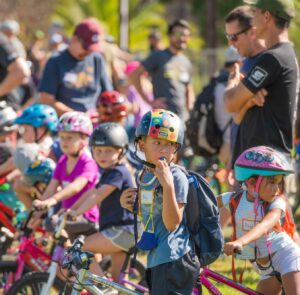 The Sprockids San Diego Bike Party is all about having fun on bikes. Join us for a morning learning bike skills while riding teeter totters and pyramids, bike jumping, obstacle courses as well as games such as limbo and the all time favorite, anarchy island! Riders will traverse through numerous stations during the event and gain exposure to a variety of bike skills.
This is an ALL AGES event, if your youngest is on a strider bike or still learning to ride please be ready to assist them through the course. 
EVENT DATE: December 3rd, 2022
EVENT START: 10:00 AM
EVENT END: 12:00PM
ADDRESS: North Chollas Community Park – 5598 Chollas Station Rd, San Diego, CA 92105
PARENTS/FAMILY: This is an event for you to ride alongside your young rider, please book a ticket for yourself if you want to join.
EQUIPMENT: Functional, recently serviced bike (mountain bike specific not required), helmet and a positive attitude! If your young rider does not have a bike or helmet, please email Sarah@sprockidssd.com.  
This is a must attend event and Sprockids favorite, we'll see you there!
________________________________________________________________
Sprockids San Diego Fiesta de Bicicletas es un evento para disfrutar y divertirse en bicicleta. Únase a nosotros para desarrollar sus destrezas pasando por balancines y puentes, practicando saltos en bicicleta y atravesando obtáculos así como jugando limbo y compitiendo en el juego favorito de todos los tiempos, la isla de la anarquía. Los ciclistas estarán expuestos a una gran variedad de habilidades que tendrán la oportunidad de practicar pasando por distintas estaciones durante el evento.
Este es un evento para TODAS LAS EDADES. Esté preparado para ayudar en todo momento al miembro de su familia que aún esté aprendiendo a montar bicicleta o si este monta una bicicleta de equilibrio
FECHA: El día 3 de diciembre del 2022
HORA: 10:00 am a 12:00 pm
LUGAR: North Chollas Community Park
DIRECCIÓN: 5598 Chollas Station Rd., San Diego, CA 92105
PADRES DE FAMILIA: Este es un evento en el que ustedes pueden pasear con los pequeños de la familia. Asegúrense de reservar su espacio si desean participar.
EQUIPO REQUERIDO: Una bicicleta revisada recientemente y que funcione (no se requiere una bicicleta de montaña o con ciertas especificaciones) y traer su mejor actitud positiva. Si su joven ciclista no tiene bicicleta o casco, envíe un correo electrónico a Sarah@sprockidssd.com
Este es el evento favorito de los fanáticos de Sprockids. Es un evento divertido que no se pueden perder. ¡Los esperamos!
Event Details
Cost

$0.00

START DATE

Saturday – December 3rd, 2022

Start TIME

12:00 am

END DATE

Saturday – December 3rd, 2022

End TIME

12:00 am

RIDER AGE

3+ years old

WHEEL SIZE

18, 20, 24, 26, 27.5, 29

RIDER LEVEL

-

LOCATION

-

VENUE

EMAIL