Mt Laguna – Adventure Clinic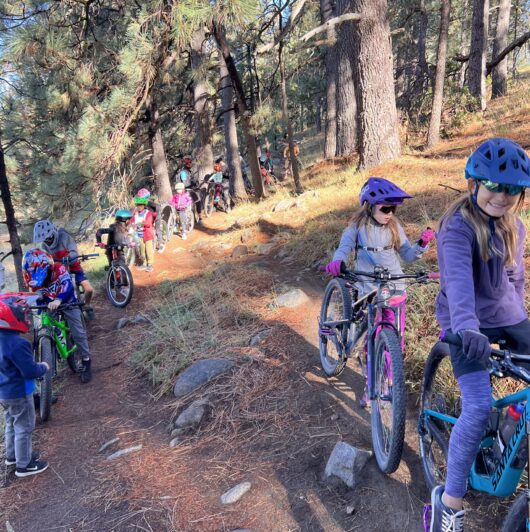 Bring your young riders out to explore San Diego's very own Mt. Laguna! This is an intermediate Sprockids Adventure. Our guides will lead the ride into Mt Laguna exploring iconic trails such as "Gatos" and the "Big Laguna Trail." Come out and learn with us as we expand upon your riders knowledge including balance techniques, cornering into berms, how to descend rocky technical trails as well as what trail speed is and why it is important.
Riders suitable for this adventure will have a reasonable grasp of bike-body balance techniques, steering and cornering as well as braking. They should overall be confident handling their bike on intermediate, or blue, trails. Expect to ride 10-12 miles with 1,000 feet of elevation over the course of the day. We will be taking a lunch break mid day, please pack a hearty lunch and trail snacks.
This event is held off of Sunrise Highway starting at a nearby campground. Directions will be provided to registered participants within 48 hours of the event start. It is approximately a one hour drive from central San Diego to the trailhead.
Parents, you are encouraged to participate in our clinics and learn alongside your children! The same skills, equipment and bike requirements stated above apply for parents and you must also book a ticket.
* Scholarships are available for families that would like to participate at a reduced rate, please email info@sprockidssd.com for more information.*
We look forward to riding with you at Mt Laguna!
Event Details
5 in stock
Cost

$79.00

START DATE

Saturday – August 12th, 2023

Start TIME

10:00 am

END DATE

Saturday – August 12th, 2023

End TIME

1:00 pm

RIDER AGE

8+ years old

WHEEL SIZE

24, 26, 27, 29

RIDER LEVEL

3 Sprockets

LOCATION

East County

VENUE

San Diego - Mt. Laguna - Sunrise Highway

EMAIL