JUMPFEST! – All Ages Airbag Open Jump
Saturday, March 25, 2023 – $30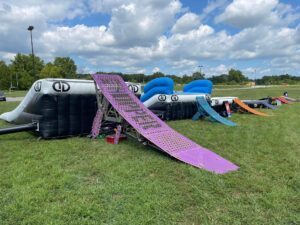 Sprockids San Diego and WheelsUP Present- JUMPFEST! A Jumping Extravaganza!
Join us at JUMPFEST! where we will be sessioning progressively sized takeoffs and bag landings to dial in our jumping skills! THIS SATURDAY ONLY we will be having a  Whip Off. Bring your best style and come compete for an awesome prize!
This open jump is all ages with a minimum age of 5 years old. Parents if you would like to join us please also register yourself. This is a supervised open jump event! Parents if you are not riding please plan to stay on site and watch, this is not a drop off event.
Riders of all abilities are welcome and will be encouraged to progress to successively larger bag landers as they practice and master their jumping skills and technique.
Date: Saturday, March 25th, 2023 (RAIN RESCHEDULE FROM TUESDAY 3/21)
**If you cannot make Saturday we also have an Open Jump Monday 3/20 ** Please book that separately**
Time: 2:00PM – 4:30PM
Location: San Diego BMX – 3170 Armstrong St, San Diego, CA 92111
Please come ready with a mountain, dirt jump, slopestyle or BMX bike that is recently serviced and well working. Don't forget to double check the chain, brakes and tire air pressure. Wear a properly fitted helmet (snug is important), closed toe sneakers and athletic clothing that is safe to ride in and weather appropriate. Well fed and hydrated riders tend to have the most fun! Please bring a water bottle and light snack.
We look forward to seeing you soon!
Event Details
38 in stock
Cost

$30.00

START DATE

Saturday – March 25th, 2023

Start TIME

2:00 pm

END DATE

Saturday – March 25th, 2023

End TIME

4:30 pm

RIDER AGE

5+ years old

WHEEL SIZE

20, 24, 26, 29

RIDER LEVEL

-

LOCATION

-

VENUE

EMAIL