JUMPFEST! Jumping Fundamentals I – AM Session
Sunday, March 19, 2023 – $119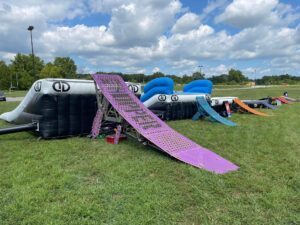 Sprockids San Diego and WheelsUP Present – JUMPFEST! A Jumping Extravaganza!
Join us at JUMPFEST! where we will be teaching jumping fundamentals using the air bag landers.
The Sprockids San Diego Jumping Fundamentals clinic teaches how to safely and effectively handle your bike while getting airborne! This is taught in a park environment using progressive jump sizing though skills drills, games, and fun activities.
In this clinic we will review bike safety and how to conduct an ABC bike check, importance of a properly fit helmet and a helmet check, the three mountain bike essentials, what neutral and ready position are and how and when to use them as well as proper bike body positioning and separation. We expect all riders attending to have a reasonable grasp on these concepts beforehand.
Your rider will learn: the importance of using a foot wedge and body wedge to maintain control of the bike, front and rear wheel lifts, pressure control and stomping into the lip of a jump, body mechanics while airborne and landing technique.
This is an intermediate to advanced clinic and riders signing up should have a reasonable confidence in bike handling. The event is suitable for riders aged 8+ that have been through a Sprockids Fundamental I and II clinic or After School Program. If you have not ridden with us before and are unsure if this event is suitable for your rider, please reach out to discuss. 
DATE: Sunday, March 19, 2023
EVENT TIME: 9:00 AM to 11:30 AM
LOCATION: San Diego BMX – 3170 Armstrong St, San Diego, CA 92111
Please come ready with a mountain, dirt jump, slopestyle or BMX bike that is recently serviced and well working. Don't forget to double check the chain, brakes and tire air pressure. Wear a properly fitted helmet (snug is important), closed toe sneakers and athletic clothing that is safe to ride in and weather appropriate. Well fed and hydrated riders tend to have the most fun! Please bring a water bottle and light snack.
* Scholarships are available for families that would like to participate at a reduced rate, please email info@sprockidssd.com for more information.*
We look forward to seeing you soon!
Event Details
Cost

$119.00

START DATE

Sunday – March 19th, 2023

Start TIME

12:00 am

END DATE

Sunday – March 19th, 2023

End TIME

12:00 am

RIDER AGE

8+ years old

WHEEL SIZE

20, 24, 26, 29

RIDER LEVEL

-

LOCATION

-

VENUE

EMAIL